On July 3, the Hungarian National Assembly approved the government's proposal for next year's budget. While the country's economy was hit hard by the coronavirus pandemic, the Hungarian government remains optimistic. The new budget will mostly focus on protecting the economy, and GDP growth for 2021 is expected to come in at 4.8 percent.
In an address to parliament last week, Finance Minister Mihály Varga said that once the first waves of the virus have been overcome, Hungary must focus on getting its economy back on track — close to its level prior to the coronavirus. In 2021, according to calculations from the finance ministry, alongside a continued drop in state debt, Hungary will see a 3 percent inflation rate, a 2.9 percent government deficit and security reserves of more than half a percent of GDP.
"In the next budget," Minister Varga continued, "the protection of families, the country's development and ensuring the safety of Hungarians will be the most important areas." Next year, the family support scheme will be increased to HUF 2.3 trillion (EUR 6.5 bn), up 67 billion from 2020. This sum will be used to sustain the measures introduced by the family protection action plan, and, for example, to further extend nursery school and daycare capacities while also providing free meals for an increasing number of school children.
Besides resources for families, the upcoming budget includes the necessary funds to ensure that pensioners receive due support: With a nearly 10 percent hike from this year, pension spending in 2021 will reach HUF 3.91 trillion (EUR 11 bn). This includes the sum that will help restore 13th month pensions.
Meanwhile, Hungary will spend HUF 2.23 trillion (EUR 6.3 bn) on education and 2.12 trillion on healthcare, an increase of 78 and 156 billion, respectively. Border protection and police forces, two budgetary areas that Minister Varga labeled "especially important," will both see more than a 10 percent increase over this year's budget.
Similarly, social security and welfare spending will be extended with an extra HUF 541 billion in 2021, raising the total budget to HUF 6.5 trillion (EUR 18.37 bn). Varga also revealed that in 2021, Hungary will execute its largest economy protection program to date: More than HUF 2.55 trillion (EUR 7.2 bn) will be made available for preserving and creating jobs, strengthening strategic sectors and supporting domestic companies.
The 2021 budget further earmarked HUF 3 trillion (EUR 8.48 bn) for managing the coronavirus pandemic and securing the proper functioning of the healthcare system, even in times of crisis.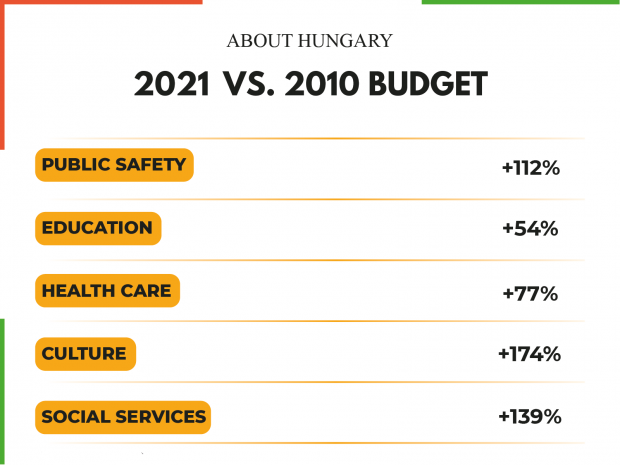 If we look at the numbers for strategic budgetary sectors from a comparative perspective, since 2010 the government has more than doubled spending on public safety. In 2021, Hungary will spend 54 percent more on education and 77 percent more on healthcare than it did a decade ago. Meanwhile, funding for cultural programs and social services have seen an increase of 174 and 139 percent, respectively
Next year's budget is proof that instead of austerity, the Hungarian government aims to handle the crisis by offering a helping hand.