In order to overcome the demographic crisis that characterizes the whole of the European Union, different Member States use different approaches: Hungary has set a goal of creating more family-friendly conditions and supporting young couples to have children. Under the aegis of the new family policy in recent years, favorable changes have already begun.
In 2017, a family and career study revealed that college students do not regard marriage as an obsolete institution, 89 percent of them have marriage plans. According to the Central Statistical Office (CSO), the vast majority of young people, 90 percent, express confidence that they will have children. Some 43 percent of young people think they want at least two children, while 18 percent consider a large family (i.e., three or more children) possible.
With regard to marriage, we see increasingly favorable trends across the whole population over the past few years. While in 2010, only 35,520 marriages were certified, that number jumped to 50,572 in 2017, marking an increase of 42.4 percent over seven years.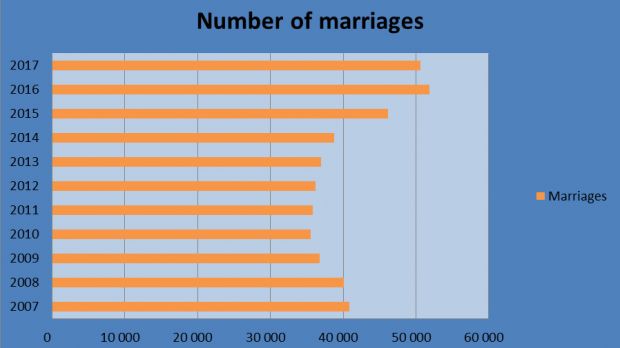 The Demographic Portrait of 2018 showed that the average age of first marriages halted in 2014. The public still regards marriage as the ideal form of partnership, and nine out of ten still recommend it to young couples. The proportion of those who opposed divorce increased, especially among people under the age of 40. 38.3 percent of 20-39 year-olds believe that marriage is a lifelong relationship, while in 2005, only 22.6 percent said so, according to research at CSO.
Read more (in Hungarian) here.