"We want our politics built on families," Prime Minister Orbán said in introducing the policies. "Make families again the core of European politics. Families and children are really a blessing – not just for the nation, but for the entire European community."
Young couples make important decisions about family, especially about the number of children they would like to have, based on the affordability of housing. Understanding those difficult choices, this program aims to alleviate some of their financial challenges, and, as an investment in Hungary's future, it was designed to provide incentives to married couples to have more children. The assistance available includes both the possibility of a grant and a low interest-rate loan to be used for buying a home.
Here below are some of the highlights: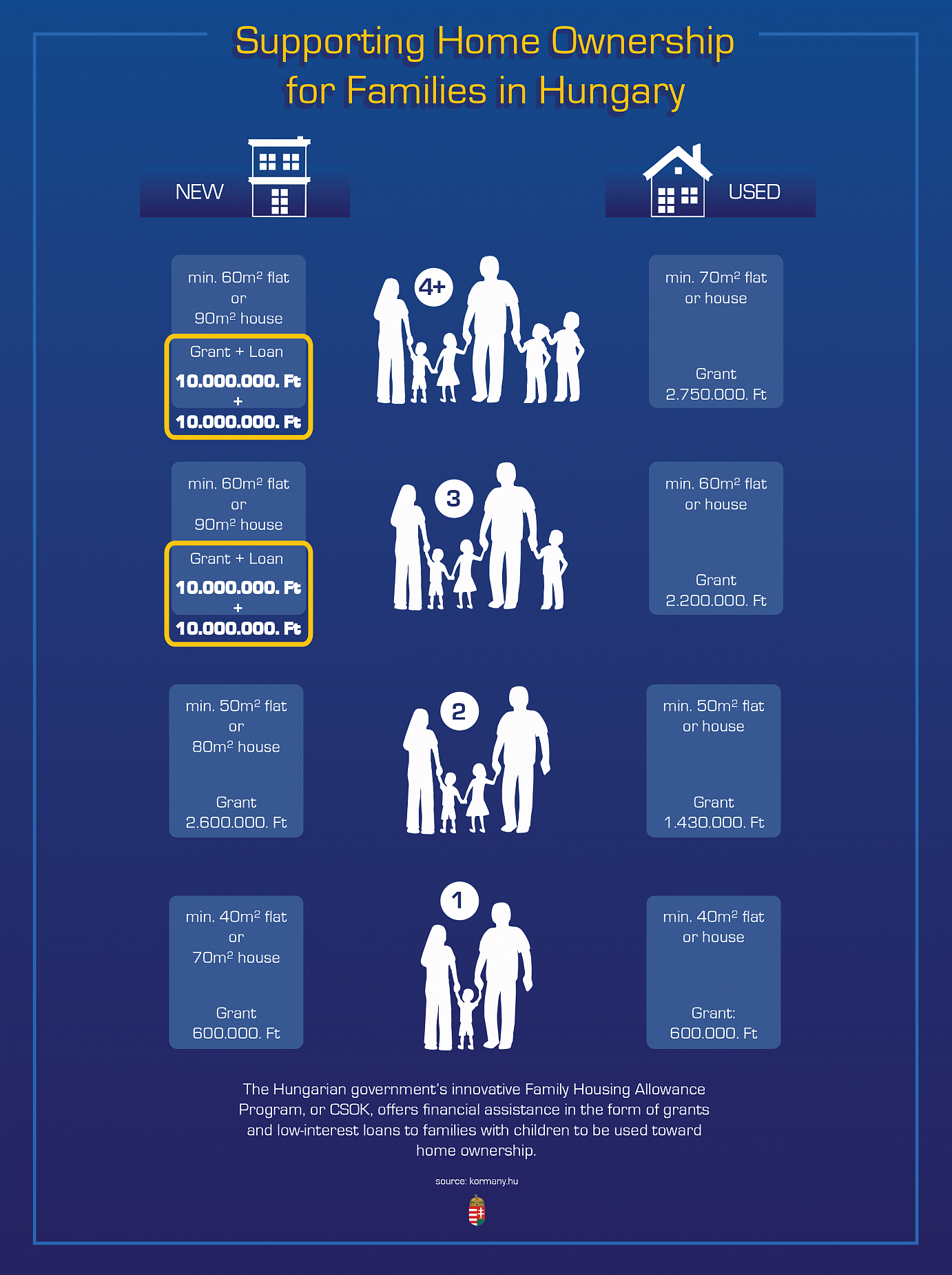 Married couples with children are eligible for grants toward the purchase of newly built homes and used homes. A family with three or more children may be eligible to receive up to 10 million HUF for a newly built home; a family with two children may be eligible to receive 2.6 million HUF; and for a family with one child, 600 thousand HUF. For used homes: 2.75 million HUF for a family with four children; 2.2 million HUF for a family with three children; 1.43 million HUF for a family with two; and 600 thousand HUF for a family with one child.
Married couples who have or plan on having three or more children may be eligible for a 25-year loan up to 10 million HUF at a fixed, 3 percent interest rate. Couples can receive a value-added tax refund up to 5 million HUF on costs of building a home, and the VAT tax rate on newly built homes is reduced from 27 percent to 5 percent.
Some restrictions apply, of course. To be eligible, the applicants must meet certain criteria regarding their status under the social security insurance system and have no criminal record, and, for the low-interest loan, must have a good credit rating. The size of the new home, expressed in square meters, should be at least the number of children times twenty. Children are counted as dependent up to the age of 25 as long as they are enrolled in higher education.
Furthermore, the subsidy carries the requirement that the recipients refund the subsidies, if they fail to fulfill the commitment to have the number of children they committed to raise. Adopted children are included in the program and families who are not able to fulfill their commitment for health reasons are not penalized. Today, approximately 200,000 families in Hungary have three or more children. The government has not yet set a cap on the CSOK budget.
In addition to helping young families buy new homes, the Family Housing Allowance Program (CSOK) has an economic stimulus component as well. The goal is to get new housing starts up to 40,000 units from the current level of 8,000. Increasing new home construction will stimulate economic growth and create jobs.